NuPrime audiophile quality commercial products are typically not sold in retail stores. The commercial product line is not designed for style but performance can be sound quality can be just as good as the home product line.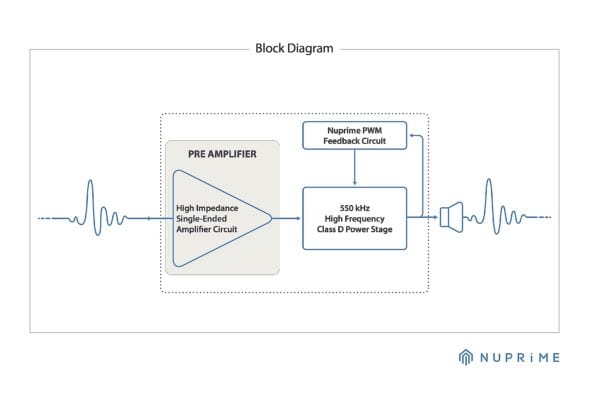 The STA-6 amplifier is derived from the Single End Class A Module + Class D design first introduced in the STA-9. By joining a powerful high impedance singled ended amplifier circuit in the preamp stage with a well integrated Class-D power stage, the STA-6 offers the richness of Class A sound with the remarkable speed and clarity of NuPrime Class-D design. Audio enthusiasts are bound to be impressed.
The NuPrime amp circuit improves on traditional Class-D design by using a self-oscillating circuit to generate pulse-width modulation. The amplifier switches at a frequency of 500kHz, well beyond the compact disc's 44.1kHz sampling rate. Most class-D amps switch at 300kHz or lower. A new low noise switching power supply is designed specifically to complement the STA-6 amplifier. The overall result is unprecedented transient speed, smooth with lots of details and an almost shocking level of dynamic impact.The STA-6's frequency response to 50 kHz elevates vocals into emotional experiences; similarly, instrumental upper registers mimic a live performance's shimmering heights.The STA-6 is designated for NuPrime Commercial product line and it is designed to be highly reliable under no-load condition and enhanced short circuit protection.