…
Design & Build Quality
Casing
"I think your USB-Key isn't working anymore, I can't copy my files !"
If you think USB-Sized DACs are a thing of the past, the NuPrime Hi-mDAC is there to prove you wrong. Measuring 50x22x12mm, the DAC is one, if not the, smallest device we received this year. I mean, even the AirPods Pro I reviewed earlier are bigger than the mDAC!
Of course, due to its size, I had to endure a few criticisms from my friends and family. Because, whatever you may think, size matters, and you're rarely praised for having the shortest, or the smallest one. DAC I meant.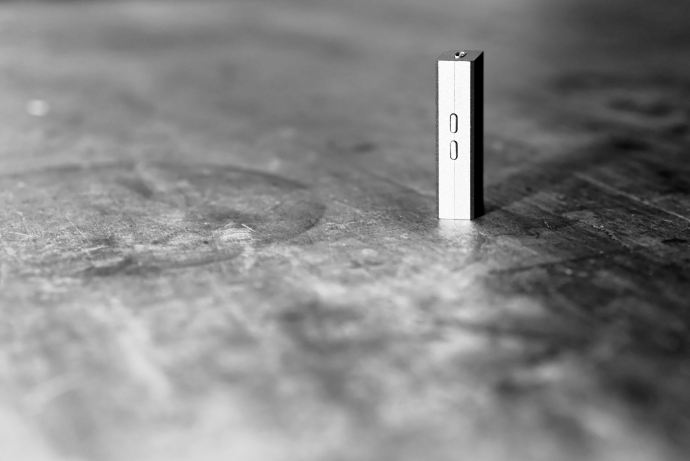 Thankfully, the Hi-mDAC is built in a sturdy, grey-matte-finished-aluminum case. Two pieces, CNC-machined to ensure a tight fit of the board, good thermal dissipation and most of all, shielding against parasite EMI.
It's not as polished as the Cobalt, who's rounded edges and glossy finish gives a premium look. But, in its own way, the NuPrime's DAC has a certain charm, thanks for the mirror-plate underlining the brand effort not to deliver just a bland, slab of metal.
Build Quality
As I said, the Hi-mDAC is a well-built device. There is no gap, nor loose plug, and even the small power up/down button gives a clean "click" when pressed. Also, as you can see in pictures, there are no visible screws, as I'm sure all of them have been hidden right under the mirror-plate?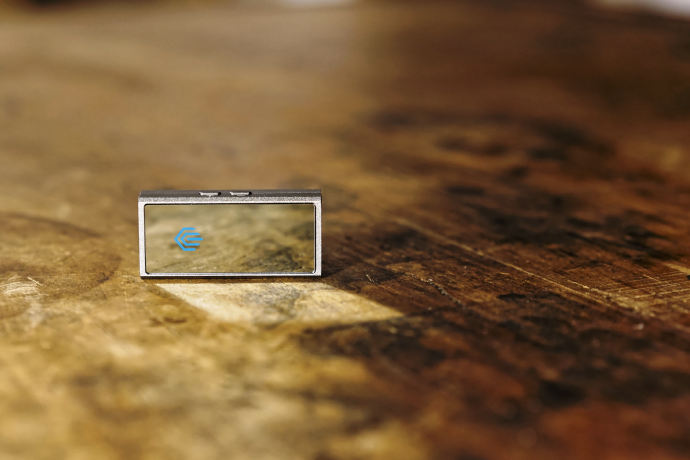 In my opinion, the only flaws come from the LED, located beneath the mirror. When the DAC isn't connected, it's perfectly invisible. But, once you turn-on the Hi-mDAC, a small light emerges out of the blue, like a zit on a face.
All-in-all, apart from that annoying LED, the NuPrime DAC doesn't fall short on this aspect.
Layout
The NuPrime Hi-mDAC is as simple as it can get.
On one side you have the USB-C port, to connect the DAC to a computer, smartphone or Tablet. And on the other side, you get a headphone output (3.5mm Jack). Additionally, the headphone port also works as a Digital output, thanks to a mini-Toslink switch.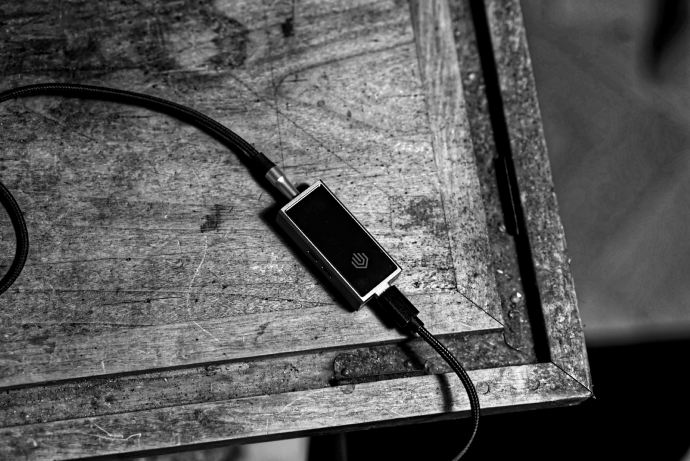 Once you connect a mini-Toslink plug, the Hi-mDAC will automatically turn-off the amp section, and send a digital stream (pass-through) to your DAC.
Sadly, there is no balanced output as we've seen on iBasso latest portable DAC, the DC01. For those of you who'd need a small USB-DAC with balanced options, I can also suggest the EarMen TR-AMP, recently reviewed by Lieven.
…
UI & Usage
Computer connection (PC/MAC)
Like most modern USB-DAC, the NuPrime Hi-mDAC doesn't need any drivers on most computers. If you're using a MAC, this is no surprise as Apple has made it a mission to ensure that every device you connect will work directly…ish.
On a Windows computer, it may depend. While my Desktop computer automatically recognized the Hi-mDAC, running Windows 10, my laptop forced me to install NuPrime's latest driver. Once, it's done, the DAC worked flawlessly.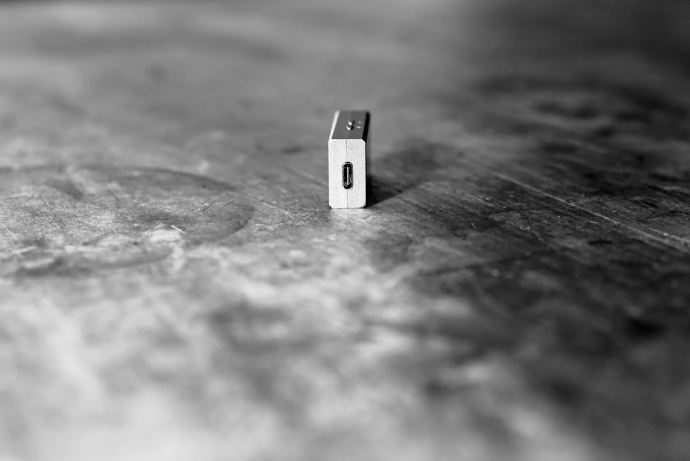 Smartphone connection (iPhone/Android)
NuPrime advertised the DAC as an "ultra-compact and low power consumption" device. As some of you might have experienced, connecting a USB-Powered DAC can be trickier than connecting a battery-powered DAC.
Obviously, a smartphone cannot feed as much current as a computer through its USB port. On iOS, an annoying message appears, saying "This accessory requires too much power". A polite way to say "What-the-f*ck are you trying to do with my port ?".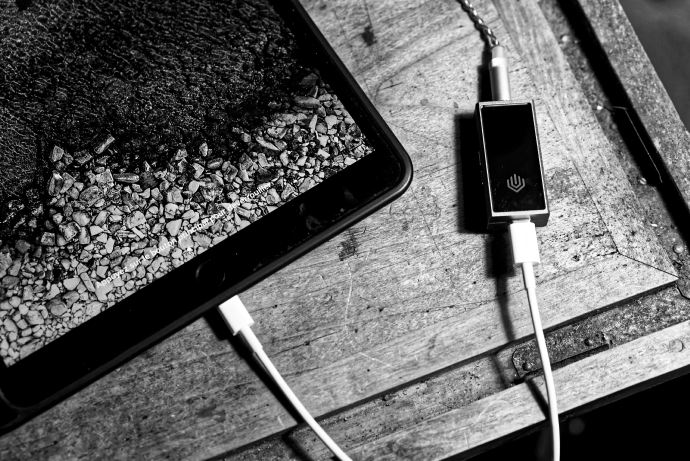 On Android, there is no message displayed. The device simply doesn't power on, whatever you try.
Thankfully, as promised, the Hi-mDAC didn't draw too much power, and with the almighty Camera Connection Kit, and a USB-C OTG port, I was able to pair the DAC on almost any smartphone I own.
I say almost because some Android Players refused to recognize the DAC, but I'm pretty sure that's more an issue with the phone than with the DAC.
DAP Connection
Last but not least, I tried to figure out if the Hi-mDAC could work with a DAP. "Why", do you say? Simply because I can, but not only. Maybe you still have an old player which doesn't sound as good as you remember, and connecting a USB-DAC can be a quick/cheap option to improve it.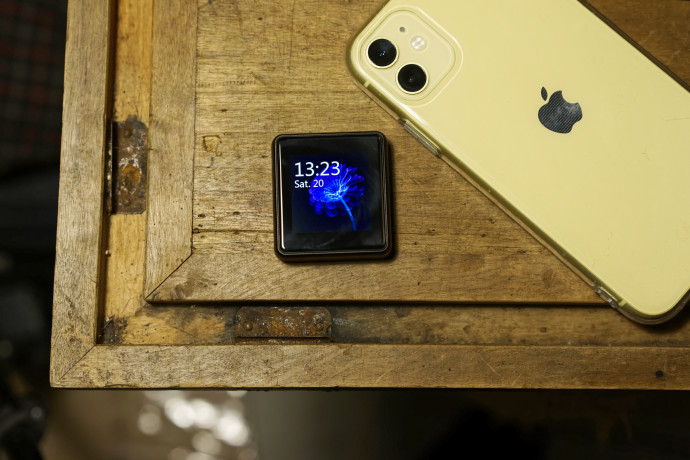 I tried a few options, but alas, the players that worked with Nuprime's DAC were all middle to high-end ones. Sure, the FiiO M5 could be paired, but you lose the ability to answer phone calls, which is why most people will get the M5 instead of the FiiO M6.
DAC Connection
Finally, you can use the Hi-mDAC as a bridge between your phone and a higher-tier DAC, thanks to the mini-Toslink output. All you need is a mini-Toslink cable plugged in, and the device will automatically out-stream digital data to your DAC.
Even though the DAC supports 32bit/384kHz streams, it cannot go higher than 24bit/192kHz when connected to its Toslink port, pure hardware limitation.
Specifications
For the nit-pickers and nerdy ones here, I'm giving the specs and technical sheets. For all the others, you can just go to the next page to see how the unit performs.
Cirrus-Logic DAC and Custom USB Chip
The NuPrime Hi-mDAC uses a CS43131 chip from Cirrus Logic.
You can find the DAC in Cowon's latest players, the Plenue D2 and Plenue R2. It's a full IC that embeds a next-generation, low power audio DAC, with a high-fidelity headphone amplifier.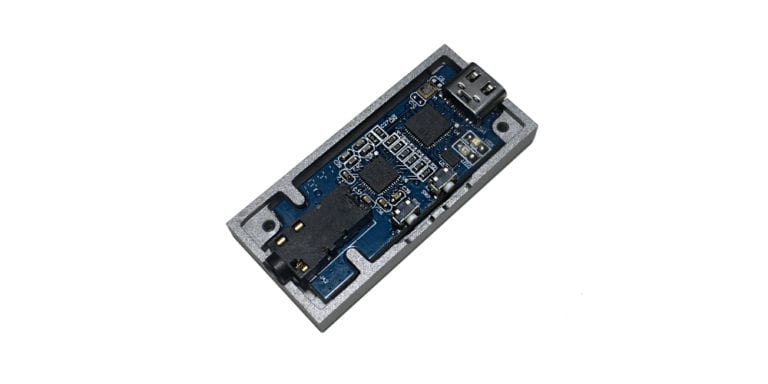 On NuPrime website's, you get this full paragraph, explaining why the brand chose this chip :
" To minimize pre-echos and ringing artifacts, the CS43131 is designed with proprietary digital-interpolation filters that support five selectable digital filter responses. Filtering options include low group delay with pseudo-linear phase and a fast or slow roll-off. Volume matching of the analog output levels and channel mixing enable a seamless transition between the DSD and PCM playback paths. The onboard low noise, ground-centered headphone amplifier provides proprietary AC impedance detection to support headphone fingerprinting to provide a consistent and transparent audio experience for the end-user regardless of transducer impedances or frequency responses."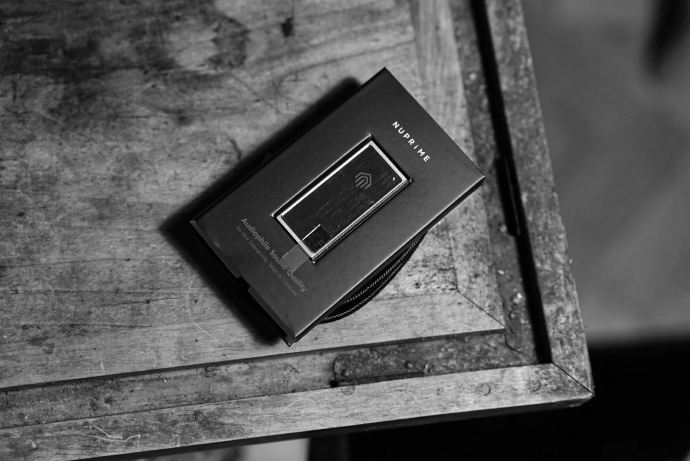 And, if that wasn't enough, NuPrime chose not to fit the usual XMOS chip. Instead, they made their own customized low power USB communication chip, which supports 32bit and DSD256 files. Let's hope that translates well in terms of performances.
Battery Life and Charging
No battery, no worry.
Everyday carry
Compared to my usual players, the NuPrime Hi-mDAC is a pleasure to carry with me. It's definitively one of those devices that you can leave in your bag, pocket or trousers for days and just forget about it.
If connected to a smartphone, it'll only add a few grams so there is no reason to carry one. Plus, this is one of the rare USB-Sized DACs which offer direct volume control. It's not much, but sometimes you just want that extra dose of precision, to reach the right level of sound.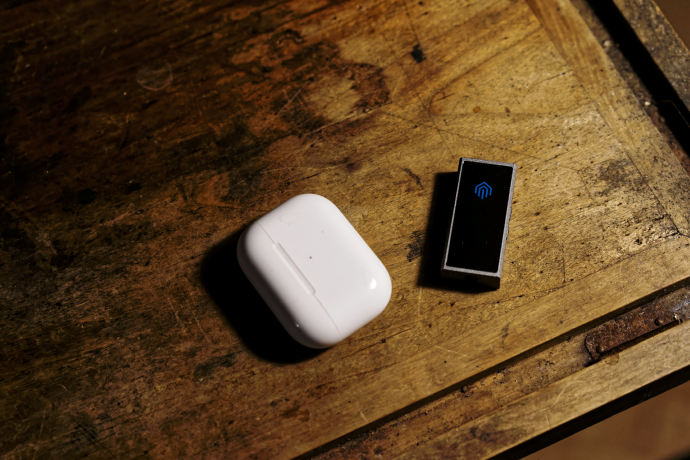 Sound performance
For the purpose of this review, I used a different set as usual : The Audeze LCD-3, my Onyko IE-C3 and Meze 99 Classics, for good measure. All files were played from a computer in USB DAC mode.
Overall signature
So, hit or miss?
Straight out of the box, I plugged the NuPrime Hi-mDAC to my Audeze LCD-3 and played "More of just the Same" from Infected Mushroom. The perfect combo to test-proof the DAC, and check if the little box can push enough juice to move my good old planar.
Obviously, I didn't expect the same level of performance found in the DAC-9H or my usual Chord Mojo, but since NuPrime had the habit of beating the odds, I couldn't say that my expectations were low.
Thankfully, the Hi-mDAC achieved something quite remarkable. First and foremost, it drives my Audeze LCD-3 and gives me "commanding bass" as stated on the website. Where the Sennheiser HD-800S felt a little cramped last time, the Audeze sounds quite the opposite with a wide sound-stage and delightful lows
Next to that, the Hi-mDAC surprised me a second time by giving me one of the cleanest mids I heard in this price range. Compared to the Cowon Plenue D2, who's enjoying the same DAC (twice), the Nuprime doesn't sound as wide of course but doesn't fall short in terms of resolution.
The Hi-mDAC is fast and precise, at any level of volume. The layering is impressive, the sound feels natural, effortless and I think NuPrime really did a good job in term of tuning. This isn't a DAC that'll wow you right off the batch, on the contrary, the more you'll listen to it the more you'll get to love it.
It doesn't retrieve as many details as the Chord Mojo, but the soundstage feels much more natural on the Hi-mDAC. Pan effects are delightful, and if you think a headphone cannot match a speaker in terms of spaciousness, in 2020, I think you should put this one to the test. Sure, the big Audeze headphone helps, but that's only half of the truth.
When I downgraded from the LCD-3 to the Meze 99 Classics, all the features I previously loved, were still there. Just tone down. Micro-details, balanced signature, precise timbre, all the usual audiophile jargon, it's all there.
I'm mostly listening "hard" tracks when I'm at work, like "Badamba" by Boris Brejcha. It's the kind of music that might sound a bit crude at first, but the better gear you get, the more you'll enjoy it, or at least the little details.
And the NuPrime Hi-mDAC is very keen to show you all those little minutiae. Honestly, to get this level of detail, out of a box this small, is like witchcraft to me. Thankfully, or not, the DAC isn't powerful enough to drive epic can properly, but one day, it'll happen.
Tonality
Highs : clean and transparent. The Nuprime achieves a good job there, with a good amount of air. Trebles are precise, never harsh and with the right headphone, you'll get a level of comfort that I wouldn't believe possible a few years ago. It's never dry, never sibilant, never boring. Very impressive!
Track : Believe in Me – Jamie Lidell
Mids : excellent layering and great spaciousness. The mids blends perfectly with the rest of the spectrum. The soundstage is excellent, sometimes astounding until you reach the highest level of volume. If so, the mids tend to fall behind the highs and lows, giving us an odd V-Shap signature. Still, this is only if you really push the DAC to its limit.
Track : Nobody Speak – DJ Shadow
Lows : fast and powerful. Bass is impressive, very impressive. Usually, this is where small DAC falls short, but this is never the case with the m-DAC. It's fast, powerful and with a good headphone, you'll be rewarded by deep, tight, toe-tapping bass. Plus side, it never oversteps on the other frequencies.
Track : The Chasm – Dan Terminus
Comparisons
Audioquest Dragonfly Cobalt : the mighty Dragonfly won't leave without a good fight. Compared head to head, each DAC displays a very different behavior. On paper, the Cobalt is supposed to offer more headroom, with an higher SNR, but in my ears, the Hi-mDAC takes the crown 99% of the time. On the other hand, I prefer Audioquest mids, so it's more a question of apple vs pears. That said, the Cobalt is almost three time more expansive, and for that price, I think the Nuprime put more than a fair fight.
FiiO K3 : FiiO's little USB DAC never outshone the E10K in listeners' hearts. Too sad, as it remains one of the hidden gems of FiiO's catalogue. If you stick with the single-end outputs, the Hi-mDAC gets the upper hand, every time. But, in balanced more, the K3 exhibits a very different behavior and seems to outmatch the NuPrime, in terms of soundstage. I prefer the Hi-mDAC though, it's even tinier!
iBasso DC01 : this is, the tiniest of the tiny USB DAC. It's less powerful than the Hi-mDAC, even though the brands gave him a balanced output, but the soundstage is quite wider. On everything else, the mDAC does a better job, in my opinion, but if you mainly use IEM's, the difference will be more subtle than with a headphone.
Conclusion
Sometimes, I don't want to bother carrying my DAP, no matter how good it is. But, as soon as I leave, I'm hit by the low level of performance shown by my iPhone. Okay, it's not "Fisher price-quality" as Neil Young would say, but it's enough for me to regret.
And, this is where the Nuprime Hi-mDAC really comes to shine. It's better than most of my entry-level DAP, small enough to fit my phone and most of all: it makes a REAL upgrade, sound-wise. I'm sure that 90% of our readers have already tried a USB-DAC, but for those of you who didn't, this may be the time.
Paired with a good pair of IEM's, like the Fearless S8F, or even the BGVP DM6, I'm pretty sure that most of you will be blown away and realize how far we have come ! A recommended buy!
Link to the review --> https://www.headfonia.com/nuprime-hi-mdac-review/